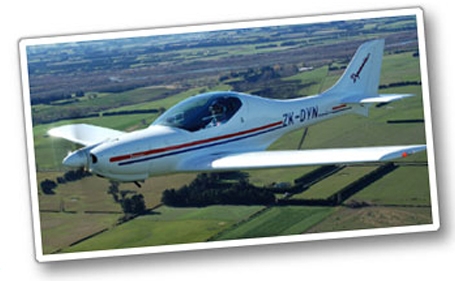 The Dynamic WT9 is a plane that belongs to the Ultralight category of light aircraft with regards to its weight, but it significantly raises the bar as far as previous perceptions of what constitutes an aircraft in this category are concerned.
Built in the Slovak Republic by Aerospool Prievidza Ltd, the Dynamic incorporates modern glider construction techniques with power, style and versatility. The airframe consists of sandwich shells of advanced composite material and carbon component parts. As a result, the combination is light weight, has excellent flight properties and has a high quality finish.
The Dynamic is available in four models, although the reality is that each and every Dynamic is custom built to the customer's specifications, so the basic version is a starting point only. The first of the range has an 80hp Rotax engine (with ground adjustable prop) and fixed landing gear. Next is the retractable 80hp model, then the 100hp fixed gear model and finally the top of the range retractable 100hp with constant speed propeller. A list of optional extras is available for all aircraft and a version with towing gear for gliders will also attract attention.
Because each machine is hand-crafted to order, the factory can incorporate any prospective owner's changes. In addition to the factory-built versions, the Dynamic is also available in kit form.
Dimension and weight of The Dynamic WT9

Wing Span
9.00 m
Wing Area
10.30 m2
Length
6.40 m
Height
2.00 m
Max. cabin interior width
1.15 m
Fuel tanks capacity
75.00 l
Minimum weight
259.00 kg

Performance of The Dynamic WT9

Stall Speed
60 km/h
Max. flap ext.
135 km/h
Maneuvering speed
160 km/h
Max Speed
270 km/h
Climbing (with 100hp)
7 m/s
Range
1200 km

Bruce Drake of Drake Aviation Ltd is the Australasian agent for the Aerospool Dynamic. Based out of Fernside, North Canterbury, New Zealand, Bruce has been involved in the aviation industry since he was 17. Now with over 40 years of experience he has built, fixed and flown all manner of aircraft, including gliders, fixed wing aircraft and helicopters. He saw the Dynamic at an aircraft trade show in Europe and decided it was the perfect opportunity to change perceptions of the microlight scene...and how!

What a gem!

phone: (64) (3) 313 4261 | fax: (64) (3) 313 7277 | email:drakeaviation@hotmail.com
address: P.O. Box 389, Rangiora, New Zealand